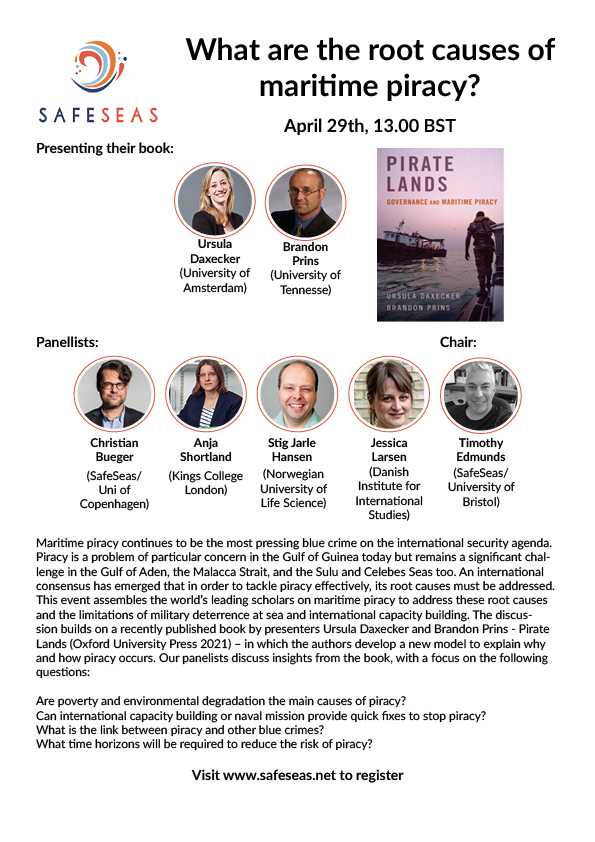 Maritime piracy continues to be the most pressing blue crime on the international security agenda. Piracy is a problem of particular concern in the Gulf of Guinea today but remains a significant challenge in the Gulf of Aden, the Malacca Strait, and the Sulu and Celebes Seas too. An international consensus has emerged that in order to tackle piracy effectively, its root causes must be addressed. This event assembles the world's leading scholars on maritime piracy to address these root causes and the limitations of military deterrence at sea and international capacity building. The discussion builds on a recently published book by presenters Ursula Daxecker and Brandon Prins – Pirate Lands (Oxford University Press 2021) – in which the authors develop a new model to explain why and how piracy occurs. Our panelists discuss insights from the book, with a focus on the following questions:
Are poverty and environmental degradation the main causes of piracy?
Can international capacity building or naval mission provide quick fixes to stop piracy?
What is the link between piracy and other blue crimes?
What time horizons will be required to reduce the risk of piracy?
Joining them will be Christian Bueger, Anja Shortland, Stig Jarle Hansen and Jessica Larsen. The session will be chaired by Tim Edmunds.