Maritime security is of critical importance to the UK. 95 per cent of all UK imports and exports move by sea through over 400 British ports. UK waters host rich fishing grounds, critical infrastructure such as undersea cables, oil rigs and wind farms, as well as seven coastal nuclear power stations. Taken together, the UK maritime economy is worth £14 billion per year.
However, it is only recently that maritime security has attracted attention in UK security policy debates. In part in response to the Brexit process, the UK has embarked on a transformation of its maritime security arrangements and architectures, culminating with the publication of a new National Strategy for Maritime Security in 2022.
SafeSeas conducts research on UK maritime security threats, risks and responses. We raise awareness of the importance of maritime security issues in wider security policy debates and advise government on the UK maritime security response.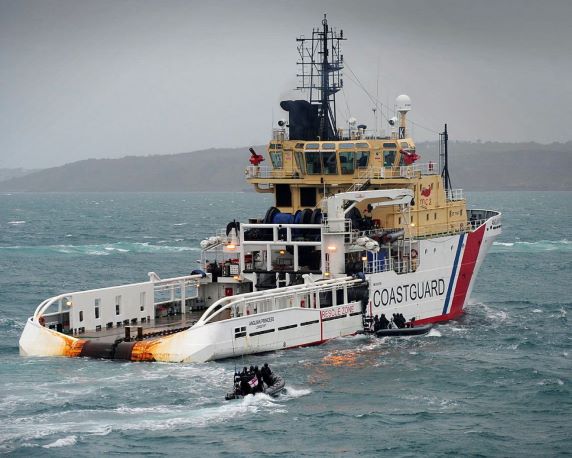 Impacting policy
Since 2019, SafeSeas has brought together policy makers, practitioners, and academic stakeholders in UK maritime security, and provided expertise and advice on UK strategy and policy to government.
In February 2020, we held our first Bristol IdeasLab on UK maritime security after Brexit to identify responses and priorities for policy and research in UK maritime security governance. This event helped to set the agenda for a refresh of the UK's National Strategy for Maritime Security (NSMS), to be published in 2022.
SafeSeas was invited to advise the Department for Transport writing team and the government's cross-departmental Maritime Threat Group over the course of this process. We also produced multiple commentaries, blogs, and articles to inform public and political debate on key maritime security issues throughout 2019-22.
In June 2022 SafeSeas held a second Bristol IdeasLab on Implementing the 2022 National Strategy for Maritime Security. This high-level event took place in collaboration with the Department for Transport and UK Joint Maritime Security Centre. It brought together key stakeholders from across government to reflect on lessons learned from the 2022 NSMS process and reflect on implementation challenges going forward.
SafeSeas regularly submits evidence to UK parliamentary enquiries on issue of maritime security. See below for details.
Find out more in our articles and commentaries
Parliamentary evidence submissions