SAFE SEAS Research Associate Dr Robert McCabe's new book – Modern Maritime Piracy: Genesis, Evolution and Responses – has been published with Routledge this week.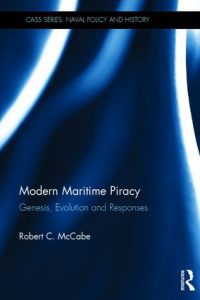 The book explores the genesis and evolution of modern maritime piracy in the western Indian Ocean and southeast Asia including responses by regional and international governments in both policy and practice. It offers new insights, such as the role of external navies in the repression of piracy in the western Indian Ocean prior to the well-documented escalation in 2005.
It also constructs a comparative analytic framework to gauge the effectiveness and shortcomings of modern attempts to counteract piracy, which reveals lessons learned, future policy projections and wider political and strategic implications of maritime crime, adding scholarly depth to the field of maritime security studies, naval history and theory and international relations.