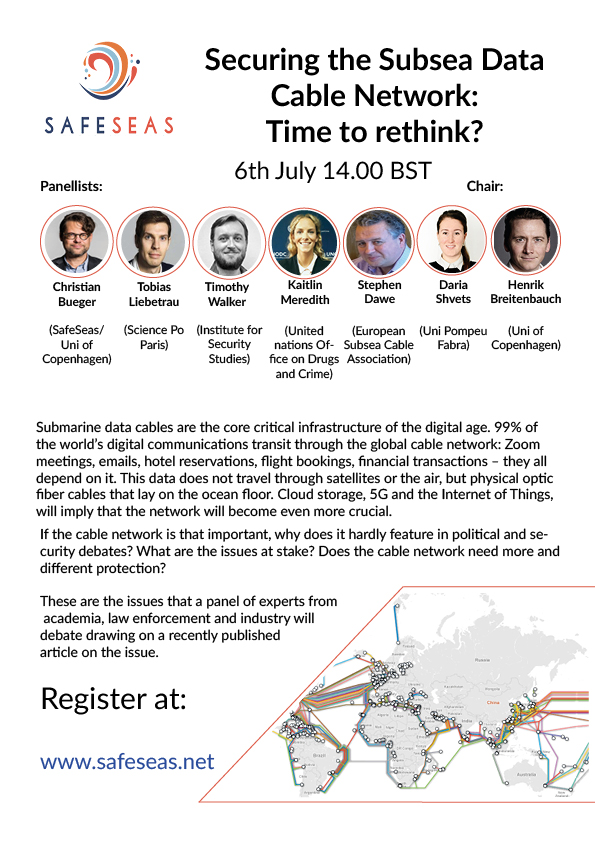 6th of July, 14.00 (BST)
Submarine data cables are the core critical infrastructure of the digital age. 99% of the world's digital communications transit through the global cable network: Zoom meetings, emails, hotel reservations, flight bookings, financial transactions – they all depend on it. This data does not travel through satellites or the air, but physical optic fiber cables that lay on the ocean floor. Cloud storage, 5G and the Internet of Things, will imply that the network will become even more crucial.
If the cable network is that important, why does it hardly feature in political and security debates? What are the issues at stake? Does the cable network need more and different protection?
These are the issues that a panel of experts from academia, law enforcement and industry will debate drawing on a recently published article on the issue.
Chair: Henrik Breitenbauch, Center for Military Studies, University of Copenhagen
Presenters:
Christian Bueger, University of Copenhagen
Tobias Liebetrau, Science Po Paris,
Timothy Walker, Institute for Security Studies, Pretoria
Kaitlin Meredith, UN Office on Drugs and Crime, Global Maritime Crime Programme,
Stephen Dawe, European Subsea Cable Association
Daria Shvets, GlovoUniversitat Pompeu Fabra. Barcelona
https://bristol-ac-uk.zoom.us/webinar/register/WN_LKHSTq8CQ1mWslTffGtiHA